Maximize Your Reach On Snapchat With New Ad Options Coming Soon!

Aria Savadkouei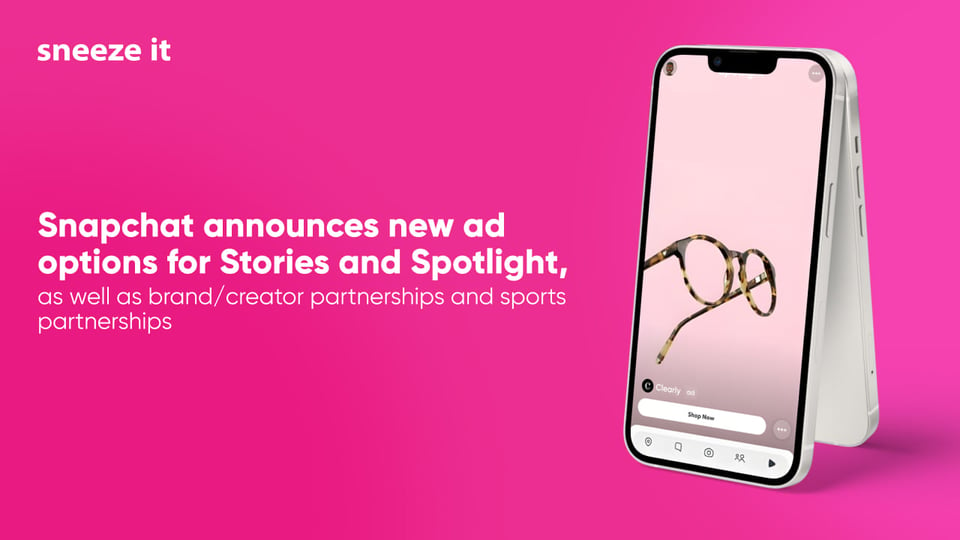 Snapchat has some exciting new ad options coming soon to the app, as announced ahead of its presentation at IAB Newfronts in New York
One of the new options is called 'First Story,' which will enable advertisers to have their ad shown first between friend stories on any given day. With the potential to reach over 50 million users, this premium placement option can help boost awareness for major campaigns in the app.
This could be a valuable opportunity for launches or announcements of wide appeal, offering big reach with a premium price tag. It could also be considered by those looking to maximize awareness with younger audiences.
Snapchat is also launching ads in Spotlight, its TikTok-like feed of short videos in the app. These ads will be displayed between clips, providing another opportunity to reach Snap chatters in a high engagement surface. Spotlight now has more than 350 million monthly active users, up 46% year-over-year, with short-form video now the key entertainment element of the moment, especially among younger audiences.
Snapchat is also looking to facilitate better brand/creator partnerships with the new 'Snap Star Collab Studio' initiative. This will pair creators with brands for campaigns, with experienced teams helping brands create and execute sponsored Stories and bespoke ad creative with Snap Stars. This will help brands create more platform-native content, which is likely to hold more appeal with Snap's audience.
Finally, Snapchat has announced a range of new sports partnerships, which will provide additional opportunities for engagement. All in all, these new ad options and partnerships can help brands reach younger audiences in more creative and engaging ways. Keep an eye out for these exciting developments in the coming weeks and months.
Interested in learning more about how Sneeze It can help you take your marketing to the next level? Please fill out the form below to schedule a follow-up discussion with our sales team.
Subscribe to The Sneeze It Diaries